| | |
| --- | --- |
| Other programs and utilities | |
Brief review
DivX2Mp4 - small utility (FOURCC changer) for converting AVI files between MPEG4 formats including XviD, 3ivx, DivX 4&5 and Microsoft MPEG4 codec. Upon conversion, DivX2Mp4 only updates the Avi header without changing other data.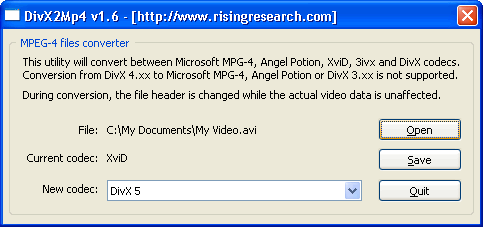 DivX2Mp4 includes Multilanguage Support (English, Russian) via the System Menu: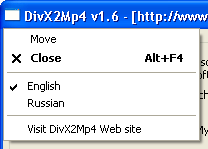 Purpose
You will need to convert video file from one format to another in these cases:
Hardware like an MPEG4 DVD-player doesn't play a MPEG-4 video and reports "unknown format or codec". In this instance you can convert your video from XviD to DivX and try again.
Video is not played by the installed codecs with message "unknown codec" displayed.
Audio is not synchronized with the video when playing.
When compressing video you can record it with different settings/codecs (for better quality or a smaller size), using different codecs for its segments (for instance, DivX Low Motion and DivX Fast Motion). Then you can use DivX2Mp4 for converting one to another and merge two Avi-files into one.
DivX2Mp4 can convert between DivX, XviD, 3ivX, Angel Potion and Microsoft MPEG4 formats.
Note
:
You can always convert video back to their original format.
If you convert a file from MPEG-4 to DivX, you can play it using the last version of DivX codec.
Download
LICENSE: This program is distributed in the hope that it will be useful, but WITHOUT ANY WARRANTY; without even the implied warranty of MERCHANTABILITY or FITNESS FOR A PARTICULAR PURPOSE.
Size
Link

DivX2Mp4 1.7 (Freeware Tool)

0.55 Mb
Download
If you have problems downloading EXE file, you can also download

DivX2Mp4 1.7

as the ZIP-archive. After downloading the ZIP file you can decompress it with WinZIP, 7zip or WinRar.
0.47 Mb
Download ZIP
© 2019 Rising Research. All rights reserved.